DSD Hopping!
HAPPY DSD Everyone!!!
I know you are here for the Blog/FB Hop, or will be soon since I'm posting a bit early, so I'll just leave you with a couple small ads of the things I, & Mscraps, have going on in the store this weekend!
I'll be back tomorrow with some CT inspiration from my two most recent New Releases, A Clearer Road. v.3 templates & Here With You. digital kit!
In addition to those I also bundled up my The Space Between. templates for a big discount for DSD!!!!!
The whole store is 30% Off & some things more than that!!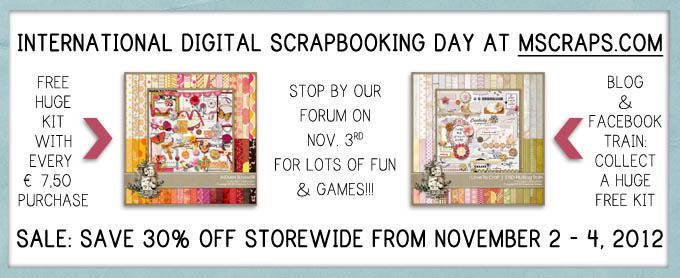 Now!!
Welcome Officially to the 2012 Mscraps Blog/FB Hop!!!
And my first hop on my new blog!!
I have to say this might be my favorite collaborative hop yet, probably the biggest too, & I know you'll agree and love it just as much! For this train, like the last few, the store CT & Designers have worked with the same color scheme so that at the end you will have collected a beautiful coordinated HUGE full kit for DSD!
Here is what I created for you:

Download it from Mediafire here or from Box.com here.
(it's the same download at both so just choose one.)
And I hope you like it!!
You should have found your way here from Edeline Marta's blog & your next stop will be to Ella's blog!
If you get lost along the way then find your way back to the beginning!
Keep in mind we are all on different time zones so if not all freebies are up yet, please be patient and check back later, (including the beginning train list). The Hop officially takes off at 6PM GMT today & I'm a little early starting!
Enjoy the ride & remember that everyone who provided you with a freebie for the Mscraps Blog/FB Hop has invested a lot of time in making these wonderful gifts for you. So please leave them a little thank you note if you can!
HAPPY DSD & HAPPY SCRAPPING!